Hi everyone! We're kicking off the last week of June with a fun technique from Design Team member Izzy Anderson... pinwheels!
Here's Izzy...
The June
Creative Kit
comes
with a brad set that includes two adorable little pinwheels. I thought it would be fun to make my own pinwheel as well. Below is the pinwheel I made (with the Laugh brad in the center).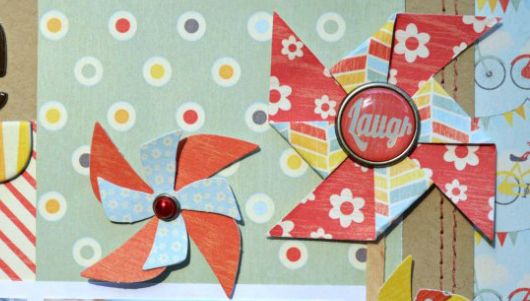 Pinwheels are really quick and fun to make. You can make them any size. Just start with a square of double sided patterned paper.

I used a 2-inch square punch but you could also cut your own square or use a die cut machine. Once you have your square (whatever size you want), fold the square to the corners, then fold again to the other corners. This gives you crease lines to guide your cuts and folds.
Use the crease lines to guide you and cut halfway to the center. Then fold down every other corner. Add a brad or decorative center to complete the pinwheel.