Hello everyone .. Time for me to give you another tutorial. You never can get enough Flower How too's and with that said I have a Sunflower to share with you...With fall here It just made me in the mood.If you do not have these punches you can used what you have at home maybe a daisy punch or your cricut.
Here is what you will need...
Yellow,brown and green cardstock (shade of your choice)
Tim Holtz distress ink-Vintage Photo
Blending Tool
Fabic Tack(or any fast drying Glue)
Moulding mat or mouse pad
Large stylus 8mm with ball
Punches- Star Lily, Large Highland Snowflake,Sun,Birch Leaf
Now you are to punch out the following....
Star Lilly -12 of each petal (yellow)
Highland snow flake -One (yellow)
Sun- 3 in brown
Birch leaf-4 in green
Ink all your petals in vintage Photo...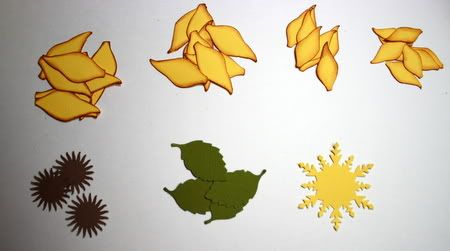 Then using the Stylus and mat, You will press down on the punch piece using the stylus in a circular motion to loosen the paper.
Do this to all the pieces...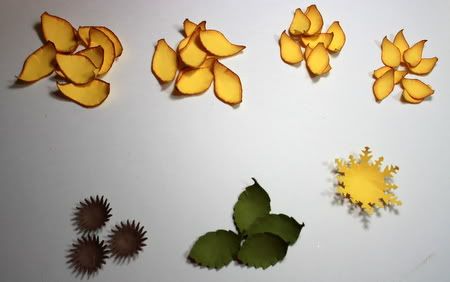 Now using the highlander snowflake as the base,you will then glue the large petals all around then layer the second to largest over that offsetting between the petals...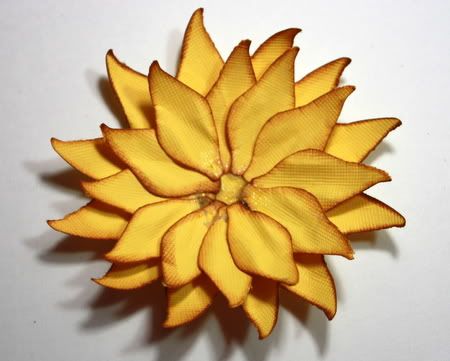 Continue with the rest of the petals and then add the sun by layering them in each other and glueing in the center.. now add the leaves to your liking..
You can add what you want to them Here I added some Glimmer mist in Clear just to get that sparkle. You can always turn this into a pointsetta if you wish..
I hope you enjoyed this.. Lots of fun...